EMAIL NEWSLETTER APRIL 2015: Finally, here in Rhode Island, the winter is easing, the snow is melting, and signs of Spring are making an appearance. This month I am excited to share with you two products that continue to expand the possibilities of basalt in manufacturing, transportation and construction. While Hawaii takes a step closer to sustainability as they explore basalt as an alternative to traditional cement.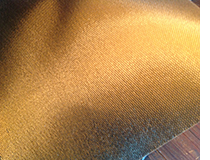 Basalt fabric with a touch of glass (coating). At last, a fabric coating that maintains basalt's natural golden color. I have been very disappointed for years in the fact that putting an epoxy or vinyl ester or basically any resin on basalt fabric turned it a dark greenish black color almost like carbon fiber.
Read more…
Fabric forming with basalt and ultra high performance concretes will open up a whole new world of architecture. Amazing flexural modulus, astounding strength and durability and the ability to fashion very thin yet light and strong products and buildings is now ready for your experimentation.
Read more…
Hawaii testing basalt in sidewalks. Using basalt fines The Hawaii County Department of Research and Development has laid the groundwork for three slabs of concrete that will act as prototypes for a sidewalk made of what is being called "lunar concrete." Plus, one slab uses basalt rebar rather than traditional steel, to reinforce the pavement.
Read more…
If you have a story about your experience with basalt, or have ideas about new uses or collaborations we would love to hear from you, and with your permission share.